Weekend ride report,
This was one of those trips where nothing went as planned.
First day's plan, explore the local Fire lookouts. My brother and I were going to ride to the top of Verdi, then Babbitt Peaks. On top of each peak is an old Forest Service Fire Tower. The views are incredible.
Fist peak, was to Verdi outlook. This was halted about 2/3's of the way up. Recent rains caused a large ponderosa to fall, and blocked the only access trail. (I might have been able ride around it, but decided against it. I'm a firm believer about treading lightly. )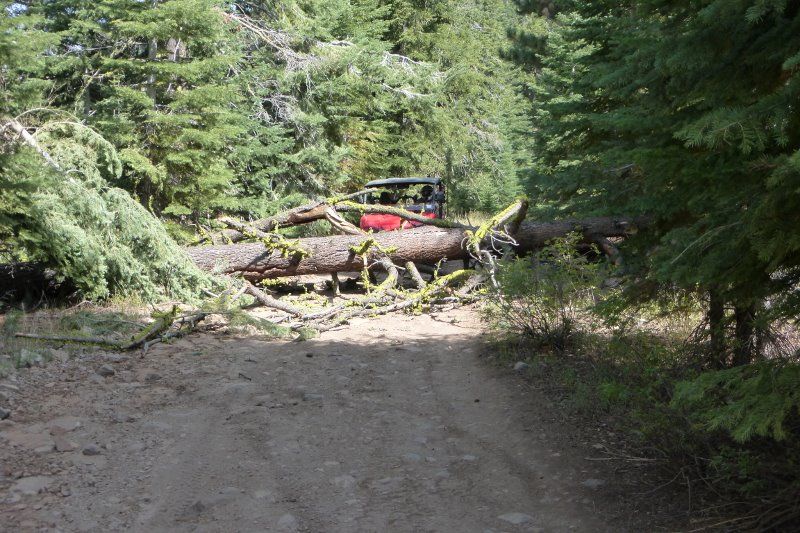 Coming down the mountain, we decided to check out the local reservoir, Unbelievable how low it's getting. Were here a couple of weeks ago. Must have dropped at least another 25 feet.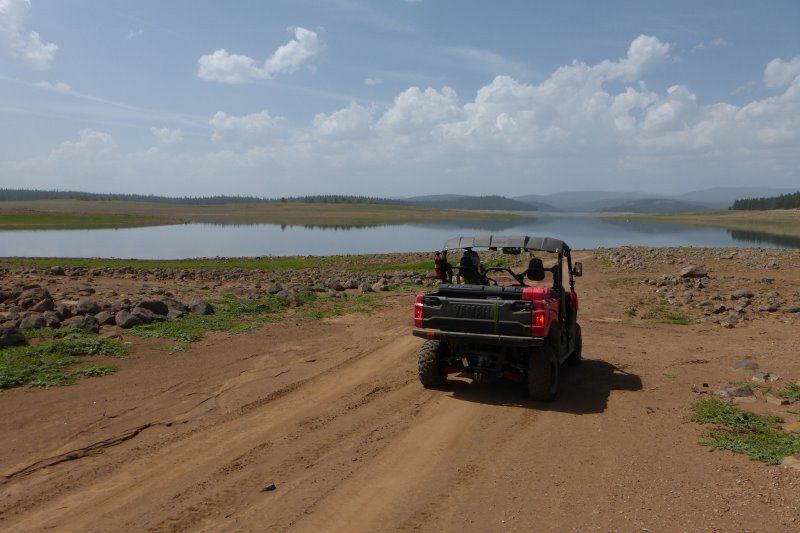 After cursing the lake bottom, we traveled up the valley to find Babbitt Peak fire outlook. Got lost Again! Damm, having trouble figuring out the Garmin, or interpreting the Topo map. So many unmarked trails in this region.
Lost again!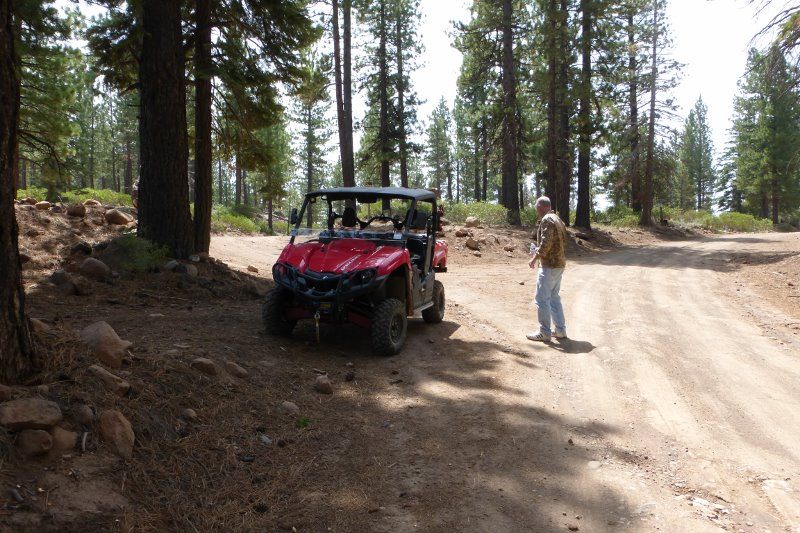 My Brother decided he wanted to be dropped off at home. He was having issues with his intercom earbuds. After 1 hour, they started to irritate his ears. Decided to take them off, and go without them. Without hearing protection of the earbuds, the Viking noise was too loud for him.
On the way back to dropping off my brother, we passed thru Sardine valley. There we stumble across a couple of the local residents.
With my brother gone, I decided to explore solo. My plans were to reconnoiter routes for a future trip. I've been searching maps, and local history. This area is rich in history, and many remote sites to see. Would like to link them in an off-road loop. My estimate is that it would be about 250 miles. In it, you would see the Comstock, old Lincoln highway, abandoned mines, Mountain views, and other areas rich in history. So far, I've up to about 40 miles.
Day two,
Decided to go on a 4-wheel trail that I've read about, Kings Canyon Trail. Starts at Carson City, travels up the remnants of the old Lincoln Highway to Spooner summit. Our plan was to continue onward from the top of Spooner Summit, and on to the Genoa Peak trail. Have traveled Genoa Peak couple of years ago on my snowmobile. The trail follow the along the top the Tahoe Ridge. The views of Lake Tahoe are incredible.
Staging area, Day 2, Kings Canyon Trail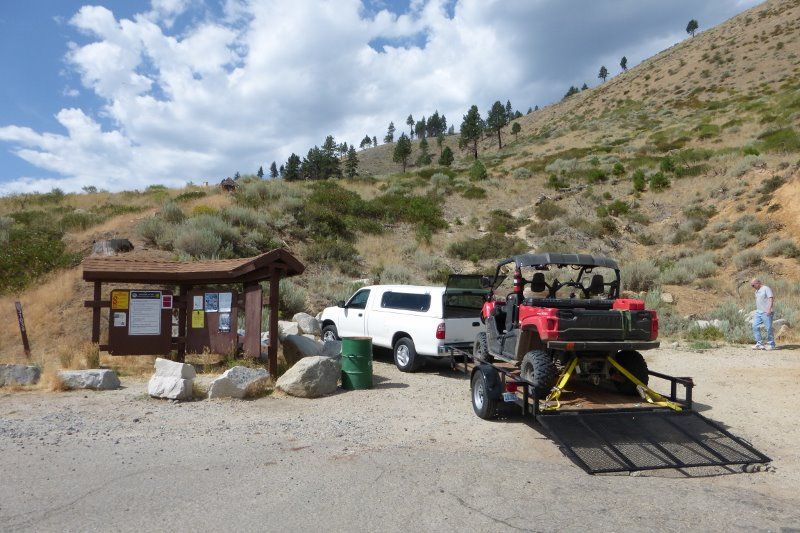 Had to trailer to the staging area (hate it), immediately a steep climb out the Carson Valley. Soon were up in the Ponderosa trees.
A few of the more challenging areas,
Not a place for those afraid of hieghts, if you look carefully, you can see the trail cut into the side of the hill
looking out and down to the Carson Valley, Highway 50 below
Reaching the top of Spooner Pass, we were met by a parked Nevada Highway Patrol car. We were a bit reluctant to egress across highway 50 to the Genoa Peak staging area. We did it anyway after making sure the coast was clear.
Crossing over to the staging area, we found that the trail was now closed to mechanized travel. Another plan foiled. Turned around, sneaked across Highway 50, and made our way back down.
Coming down, one of the few tight spots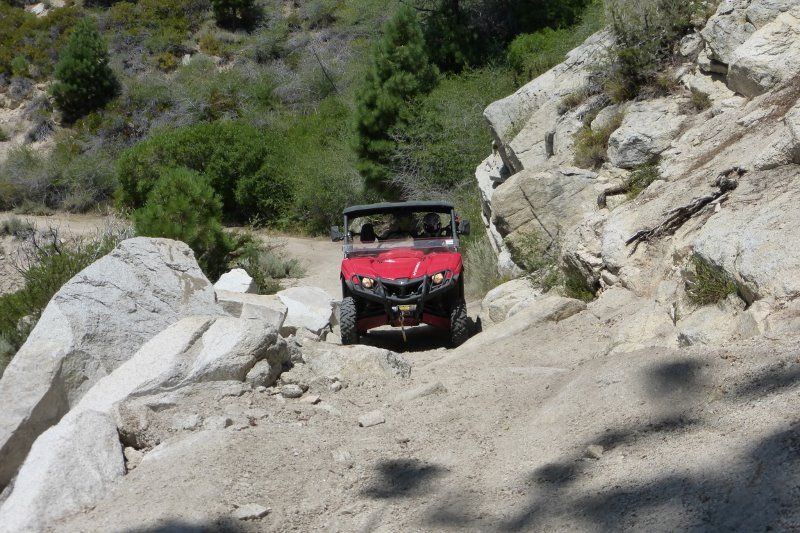 Coming down, You can't see in the photo, but the drop-off to the right of the trail is a sheer drop of 800 feet
After finishing, and loading the Viking, I realized I lost my truck/car/house and work Keys. Thank god of hidden spares. In the aftermath of replacing the keys, I found out that a Nissan Transponder key is over $200.
Tomorrow will travel this trail once again, now in search for my missing keys. Stay tuned, more reports coming.