Discussion Starter
·
#1
·
Hey Viking Gang,
Some of you followed our previous SIRIUS light threads as well as the testing process. We introduced our new lights last month to go with our VIPER winches, DENALI plows, FIRESTORM heaters, etc.
I. FEEDBACK
We have some early feedback and comparisons from the lights out there. Here is some of what people have said (dealers and riders):
1. "Had a customer stop by for a visit. Noticed he had a light bar on his front bumper. Asked him a bit about it then pulled out the one Sirius 20" I have left. Popped the hood wired the positive and negative to his battery and laid it on top of his light bar. Flipped his on then the Sirius. It was like he didn't even have his one once we flipped on the Sirius. He paid about $150 more for his "No Name". Literally they were not even proud enough to out a manufacturer name or model # on their product. Needless to say since it is getting dark here at 4:30 he went home with my light bar!!!! Said he was going to give the "No Name" to his brother in law for Christmas. Hahahhaha."
2. All was in good order, and I must say the SIRIUS LED lights are awesomely bright.
3. "With our short Canadian winter days over driving the factory UTV headlights is a problem. With the SIRIUS 20" LED light bar this is a problem no more."
4. "We love your SIRIUS light bar."
5. "On a serious note, those lights look great. I have seen light bars a ton more expensive not look anywhere close to that. Good on Motoalliance coming out with a quality light at a working man's price."
6. "Here are some more videos I took last night of this bad AZZ Sirius 10" LED light bar. Excellent light!!!! Enjoy. Thanks again Peter. I might just put one on the front of my Ford F350 4X4!!!!"
7. "So I went for a test ride and it shines bright! I wanted something I couldn't out run and it does that! It shines a long ways and the color is a nice white light….whiter than the Tortrons."
8. "I just got it today and did a bench test outside. Initial response is "Wow, a nice bright white light that lights up the whole hill behind my house!"
9. "My new 20" SIRIUS LED light bar will drown out my neighbors 30" Rigid. Bragging rights and money to spare...Priceless."
II. COMPARISON
We ordered a Totron light bar to use it as a general comparison since there are a lot of Totron-style bars out there. Certainly not meant to bash any competitors as there are reasons to buy other lights, just trying to provide a genuine comparison. Here are some pictures of the connections as well as comments from our engineer.
Comments from Engineer
Hey, Here are two snips of the wiring harness comparison. The only thing to note on the relay picture is that the Sirius version is much more neatly bound together and has a rugged outer casing around each wiring set. The plug connectors on Sirius lights are water tight while Totrons have open ended wires on one side and a connector on the other side. The dealer we bought it from recommended cutting on the connector and splicing the wires together.

Also to note, the wiring harness is extra ($16) not included in the advertised price we received from the dealer
III. SIRIUS LIGHT PRICING & COMPARISON CHART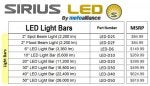 IV. COMMENTS ON QUALITY
Note the quality and warranty matches RIGID....our SIRIUS lights are competitors with Totron and the other low-end lights in price only......not quality. For example, SIRIUS is more than just splash proof (IP67)....it is fully submersible (IP68).
Our stated goal is to introduce a Rigid-quality light at a much better price. Early feedback suggests we are doing that. So how can the price be so much less without sacrificing quality? Three reasons:
1. As a large business, we can purchase large quantities of lights compared to generic businesses just importing stock lights.
2. We avoid distributors like Parts Unlimited. That saves 30%.
3. We are a full powersports' company that can develop long-term relationships with suppliers and produce to our specifications. That can help on price. Again, not just importing stock products. Our engineer is a true electrical specialist, and we have a full range of accessories to go with them.....you won't just get a light bar and have to cobble together accessories somewhere else.
PM me if you need some lights, or just head to our website or give us a call and we can order them up. Forum members always get 5% off (FORUM5) is the discount code, and if you PM me with package thoughts we can do better. Thanks!
Peter Kapsner
President
Motoalliance
Moto Alliance
1-866-527-7637