Discussion Starter
·
#1
·
I've seen several of you use your Vikings for plowing and I thought I would aggregate the available plow setups for the Viking in one place and we could discuss (read teach me a thing or two
)
Denali Pro Series Plow Kit: $1,449
County-style blade with curved design cuts wet snow & throws powder out of your path; made of 12 gauge steel
Impact Resistant Reinforcement System, includes edge stiffeners and stabilizer bar, to handle accidental impact
Sand-blasted powder coat with epoxy primer and TGIC Polyester top coat for ultimate corrosion protection, UV resistance and long lasting durability. Available in red, yellow and black
High strength, high yield 3/16" thick Grade 50 steel wear bar for maximum durability
Angle Blade ranges from 16" on the low side to 23" on the high side
Rubber flap stabilizer bar with upgraded (stiffer) rubber flap material which prevents snow from flying over the blade
Plow markers included
Height AND Angle Adjustable Premium steel skid feet
Includes 3 Year Warranty on the plow blade against manufacturer defect
Hydro Turn allows you to turn the plow side to side hydraulically without getting out.
EMP Viking Snow Plow: $1,049
Fabricated from A36 American steel (not soft Chinese steel).
All parts are Laser cut to ensure a perfect fit, then MIG welded.
Powder coated for superior protection
Plow blade is 20" high and 72" wide.
Plow frame is made from 1/4" and 3/8" thick steel.
Attaches in less than a minute with two hitch pins.
Plow raises and lowers with your winch.
Includes: Yamaha Viking mounting plate.
Includes plow shoes.
EMP now offers rubber blades as an option
optional electric over hydraulic power angle sold separately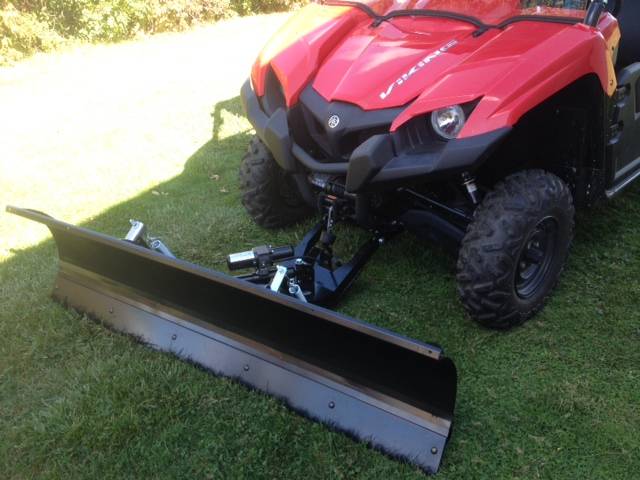 Yamaha Plow by WARN: $1,185
72" WARN ProVantage Straight Plow Blade.
WARN UTV Push Tubes.
WARN Machine Specific Front Plow Mount.
The WARN ProVantage Straight Blade is made from thick gauge steel with heavy-duty ribbing and a center cross member for added rigidity. Boxed design adds extra support.
Special low-friction powder coated finish helps keep material from sticking to the blade.
Thick, sturdy wear bar has a steep angle of attack for maximum surface scraping.
The WARN UTV Push Tube assembly features an extra-wide design for increased stability and durability, a forward trip system, and an interlocked rotating base plate for great strength, outstanding durability, and excellent impact resistance.
Designed for easy on/off with the rapid connection system.
The WARN Front Mount features the Rapid connection system: easy-on, easy-off thanks to self-locating pin design.
Mount is located at the front of the vehicle-no need to crawl under the UTV.
No need to remove mount during non-plowing seasons; no reduction in ground clearance.
UTV Snow Plow System By Cycle Country Plows: $799+
Designed for fast attachment and removal using self-aligning connections and stainless push-pin fasteners
Maintains ATV's original ground clearance and approach angle
20" to 32" lift height (ground to wear bar) using winch lift
Built-in stops prevent over-lifting to protect ATV
Reinforced 5-position blade angle adjustment
Reversible pistol grip manual angle adjuster to clear winch cable
Eagle UTV Country Snow Plow System by American Manufacturing: $639
60" wide design specifically for UTVs
Manufactured from 12-gauge steel
Rolls the snow away from the path
Includes the top rubber flap
Available in black or yellow
So please school me on the ins and outs of plows. Will I need a winch? Which seems to be the most popular/most trusted/best quality? This will be something I'm looking at for next winter, Viking in the spring with all luck