This week decided to ride out to the off road vehicle area known locally as Moon rocks. The B.L.M. designates it as Hungry Valley Recreation Area. Moon Rocks is named after a granite rock formation next to the staging area. The area looks like something out of a 50's B outer space science fiction or western movie stage. It's defiantly worth the drive if you're ever out this way.
As I've mention in previous post, I'm trying to scout a 200 mile connecting route of the local ATV trails. The ride from my house to Moon Rocks is about 50 miles. In between there are many interesting and historical sites. This is the first section, and I hope to connect another 25 to 50 miles by the end of fall. So do stay tuned.
Starting out in my backyard, traveling up Pevine Mountain. It's about an 8.5 mile ride to the top. Elevation gain of about 3700 feet.
Traveling outside form my backyard. South side of Pevine traveling toward the peak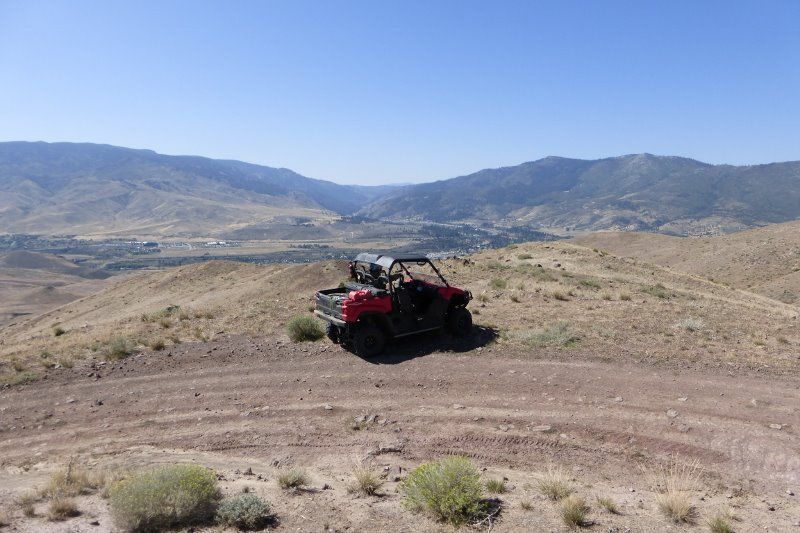 Aspen grove showing some yellow, fall is coming,
Toward the top of Pevine
Coming down the north side of Pevine, Cold Springs in background. Someday would like to blast around the dry lake.
Trying a new trail. The photo does not give a perspective of how steep the trail is
Broken down truck found on the trail. Still here form last week. Not sure of the story. There a broken drive shaft in the bed. Will probably call it in to the Washoe County Sheriff.
Heading back into Nevada, you need to cross over the 395 Highway. The only way to access the Rad Rock Rd. Overpass. Have to poach about ¼ mile of county road. Have to be careful, it's right on the Calf/Nevada border. This is where the highway patrols hang out or turnabout into their jurisdiction.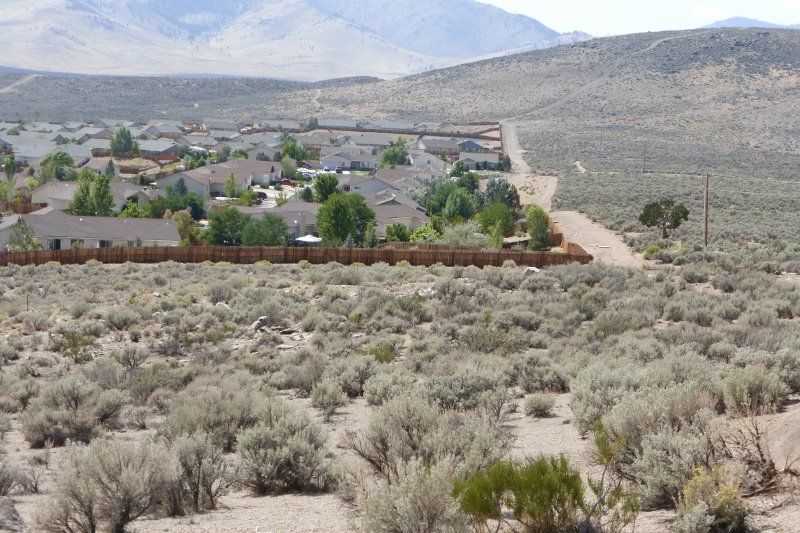 After Cold Spring, it's about 25 miles of county and BLM trails to Moonrocks.
Miles of Miles and Miles. This is why
reliability is so important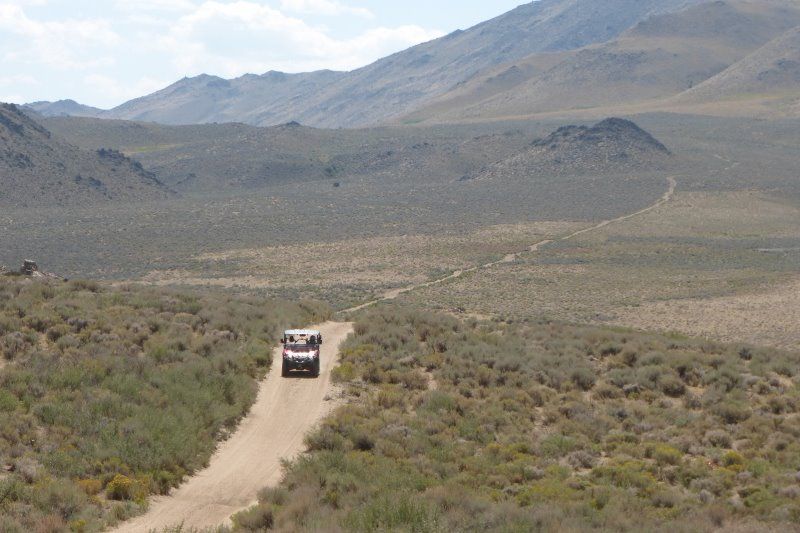 A newly paved section of BLM road to Moonrocks. Lotta' fun
One of the things I love about Nevada, is the acess for ATV. Here is an example. a 1/4 mile section between staging area. Would never see this in Calf.
Arriving at Moonrocks
Playing around the rock formations
Area behind gives a good idea what this area offers,
Local yahoo's getting stuck
How's this for a toy hauler
Heading back, Cold Springs in the distance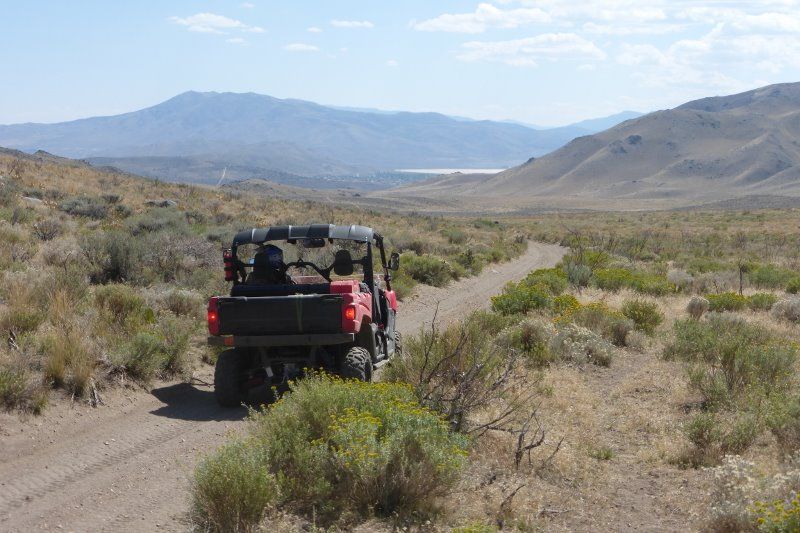 At state line, pulled in the Casino for top off the gas. There we met some dirt bikers filling up their bikes. Soon afterward, a Calf. Highway Patrol car pulled up behind us. (A little background, there is a short section of road we have to poach as to cross over the 395 highway). Lucky for us we were on 'our side of the border. The CHP waited a few hundred yards away, to see if we were going to cross into his jurisdiction. We and bikers decided it was a good time to take a break, and wait for the patrol man to find bigger fish. After about 20 minutes of waiting the officer left. From then on, it was an uneventful trip home. Total mileage for the day, 100.9 miles.
Gassing up at the casino, CHP just out of sight,
Waiting out the Highway Patrol
Google map of todays travels.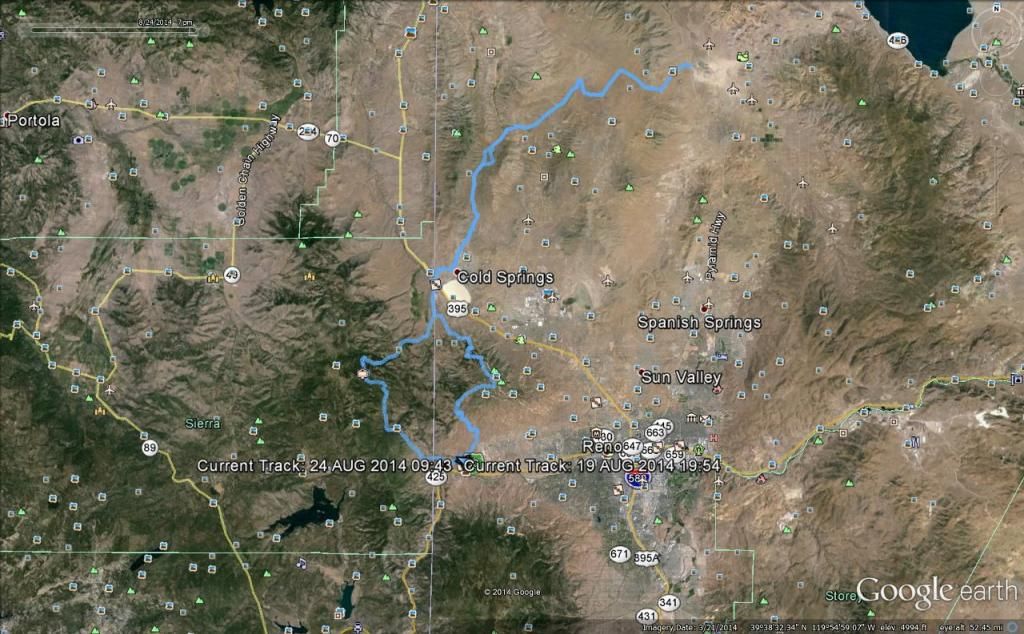 Here is a Picture of myself. Love my Viking. If you're ever out this way, would love the company.