Discussion Starter
·
#1
·
Put together a pretty cool spare tire carrier yesterday. I wanted a carrier that, #1 - was easily removable in case I need to dump the bed. #2 - one that would easily tilt out of the way, without having to take the whole thing off, so I could open the tailgate.
Here's the Viking with the carrier all mounted up.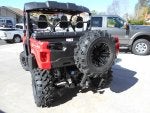 This is the bracket itself. Notice the two pins on top and then the one at the lower hitch attachment.
Pull just the one top pin ,next to the tire, and tilt the tire down for easy bed access. Also set it up so, when tilted, the tire rests on the hitch. This way, if you need to haul something a little longer, you can leave the tire down and it wont rattle like crazy.
Leave that pin in and pull the other two pins to remove entire bracket.
This is the upper attachment point. Just used a piece of 2x2 angle iron, attached it to the bed with bolts, and welded a small piece of tubing to it. This photo also shows kinda where the Hushpower muffler is going to go. I just used a couple pieces of flat bar to support it, but will remove those and attach it with the wire brackets it came with Monday.
There are no rattles at all now, but it will probably wiggle a bit as time goes by. I'm going to add a jam nut under the tire that will keep it tight and eliminate rattles. FYI: I used a "Curt" 4 inch drop hitch...they come with a longer shank. As you can see, it's inverted, so when you come off a rock or drop-off you wont drag the hitch. Plus, it puts the ball high enough to level out the trailer better. The gap is large enough so I can still hook up my trailer with a "Bulldog" coupler.
Pretty happy with the whole thing. It's going to be nice having the spare with me 10-20 miles back in the boonies!