Discussion Starter
·
#1
·
Hey Viking Gang,
Our DENALI plows for VIKINGS are now shipping! We have a major discount going....more on that in a moment.
Here are some of the plow details.
66" and 72" DENALI STANDARD SERIES (show with optional plow markers and flap)
66" and 72" DENALI PROFESSIONAL SERIES (markers, flap including -- available in multiple colors)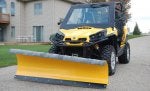 DENALI HYDRO-TURN (click on link for our YouTube video)
PRICING (free shipping)
DENALI STANDARD 66" Complete System: $539.99
DENALI STANDARD 72" Complete System: $579.99
DENALI PROFESSIONAL 66" Complete System: $749.99
DENALI PROFESSIONAL 72" Complete System: $799.99
HYDRO-TURN: $699.99
VIKING FORUM SPECIAL
Between now and Thanksgiving you can get:
1. 10% off any plow system (usual forum discount is 5%).
2. 15% off any plow, hydro-turn, winch package
We only have about 50 plows available and they stand to go very fast when we get them to the rest of the marketplace.
PM me if you'd like one. Need name, phone, email and we can get them set up.
Thanks guys! Love this forum.
Peter Kapsner
President
Motoalliance
Moto Alliance
1-866-527-7637