Discussion Starter
·
#1
·
Well here it is my second ride report. Sorry for not having exciting actions shots, or great scenic photos. Took my brother out today. Good guy, but just does not want to work for the money shot.
I live in a small town 10 miles west of Reno, Verdi Nevada. Population a little bit over 1500. It situated at the base of the Sierra mountain range. Mild weather, close enough to the mountains without the extreme snow. Skiing only 25 miles to the west. A long time ago, it was a prosperous lumber mill town. Timer was harvested in the adjoining mountains for the mines in the Comstock. Still to this day, the hills a crisscrossed with an extensive systems of dirt roads. (Great for exploring on jeeps and ATV's) Verdi is notable for being the place was the first train robbery ever occurred.
http://cprr.org/Museum/Robbery.html
Normally I can access the off road areas right from my house. Unfortunately, there is a 1 mile section of road I have to use to get to the staging area. Today, there was some kind of bike race. The area was being patrolled by Washoe county sheriff traffic cops. So I decided to trailer the Viking to the starting area. (Yea, I get real spoiled here),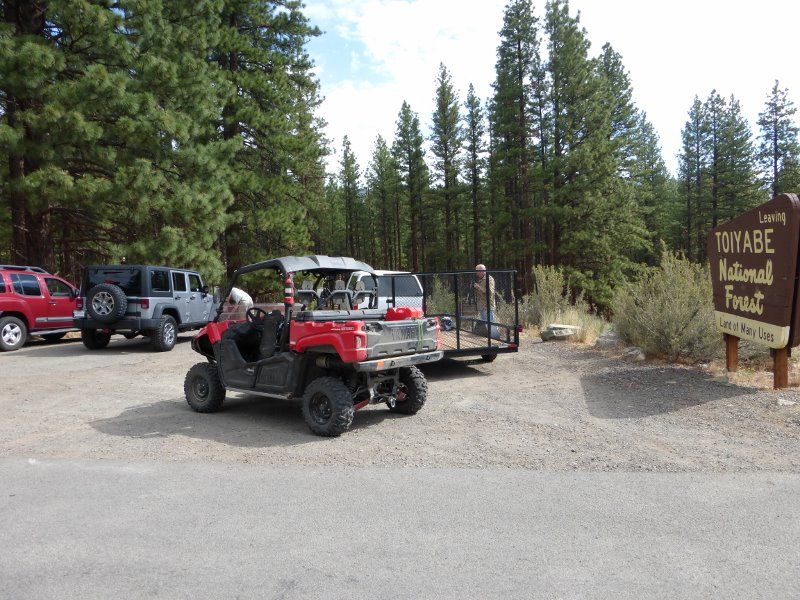 I hate trailering! Esp. when it's only for 1 1/2 miles
Out first stop, Stampede Reservoir. The level is as low as I ever seen it. The Drought is really taking its toll. Don't think there will be any water in September.
more shots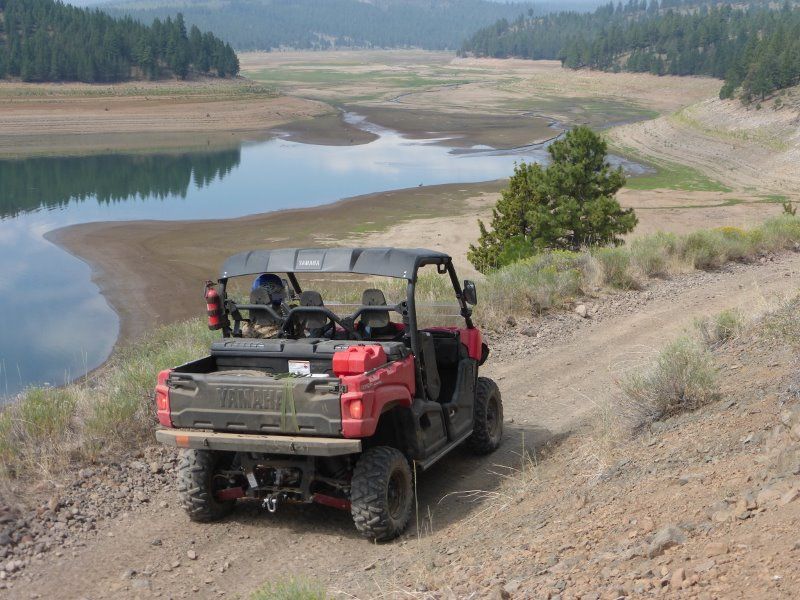 At the end of the lake, we were able to drive across to the other side. Normally this area should be about 25 feet under water.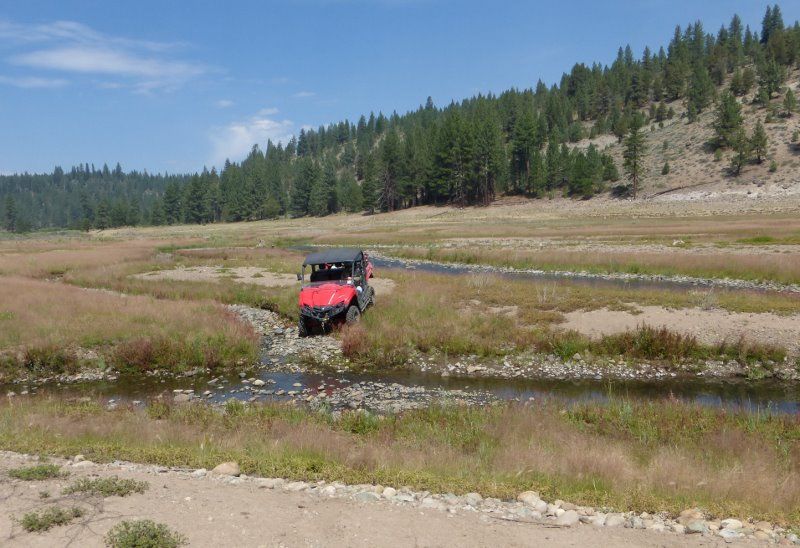 This is what a drought looks like
After exploring the lake bottom, we headed up into the High Sierra's. Our goals was White Rock Lake, but were unable to find it. Seem some yahoo's been taking down the trail signs. Even with a topo and GPS, we got skunked. (Still trying to sort out my Garmin Montana)
Getting lost, but still great country (This haze is from wildfires in Amador County)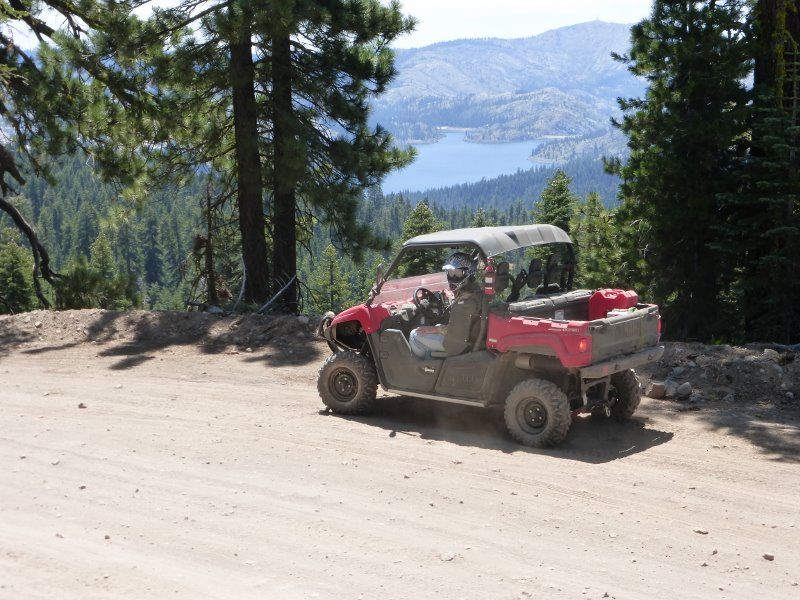 Still lost (note the Topo map on the hood), but at lease great cell phone coverage). My brother updating my sister on my great navigation skills (not). Lake Meadows, also very low due to the drought


Really tall pines, more great

Scenery




After missing our goal of White Rock Lake, we decided to head home
Here is a deer fence to cross Highway 89


An interesting stop on the way back is the site of an old stage house. Guess this was the main throufare form San Fran to the Comstock (Virginia City )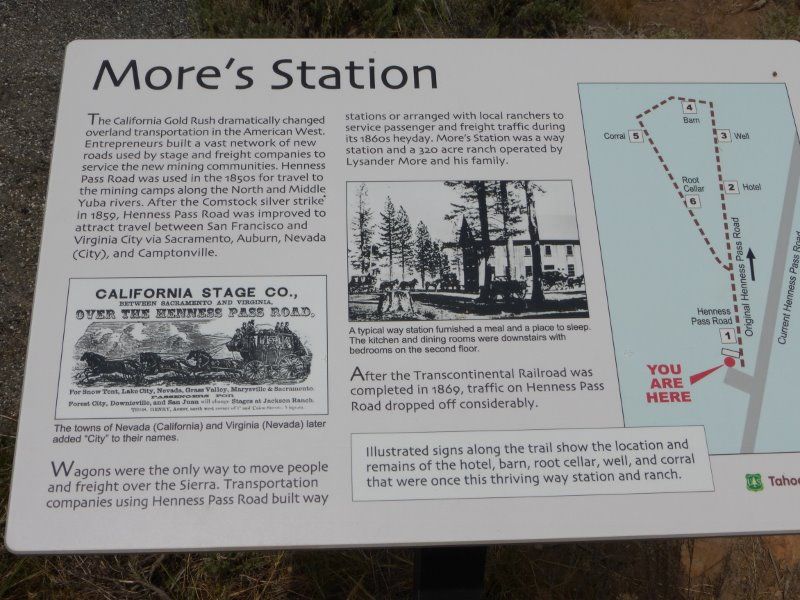 On the way back, passing thru Dog Valley. Tons of great trail riding here

Coming to an end, dropping into Verdi, and with that, getting a whole lot warmer
The end. 100 miles, and having to trailer back for the last 1 1/2 miles.
Ta
Stay tuned, another ride report coming soon.
Love my Viking!
DRZmaui