Another weekend ride report.
I just finished installing my Hunterwork Clutch upgrade (stay tune for a product evaluation). Decided to keep things safe, and keep close by. Wanted to make sure everything was working well. Did not want to breakdown miles from nowhere.
My brother and I decided to follow up with our last week attempts. Our goals were the forest service outlooks at Verdi and Babbitt Peak. Success was achieved!
Taking a quick break on the road up
Recently I purchased a new map of the area. It's more accurate, and easier to read. In addition, my still are improving with the Garmin Montana.
Babbitt Peak, The ride up was pleasant 10 mile drive up from the Sardine Valley. The lookout is actively staffed with a Forest Service employee. Elevation is over 8000 feet. Did not see the Ranger, but we did notice his German shepherd. Didn't look to friendly, nor did I think the ranger would be too social. Must take a certain breed to want to isolate themselves for months on end.
Getting higher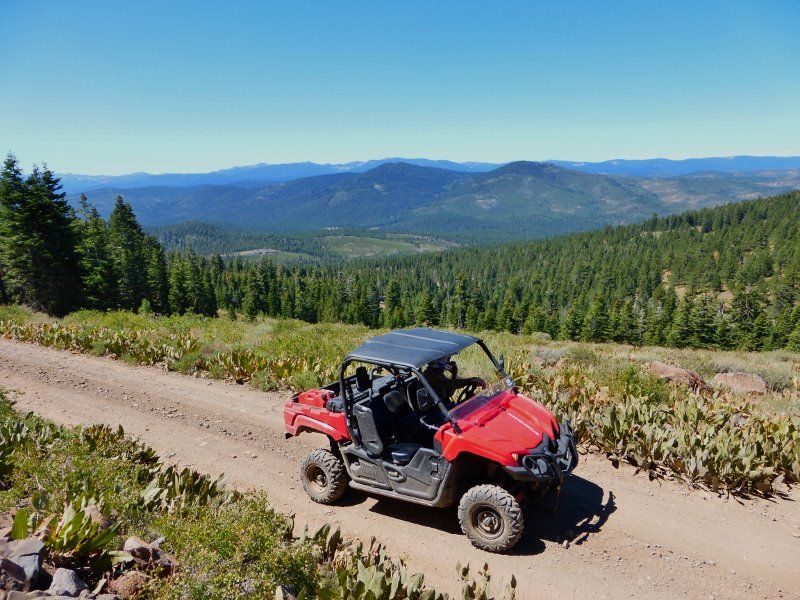 At the outlook, we met a construction crew working on setting up telecommunication towers. My brother is an ex-construction supervisor, and enjoyed talking shop with the guys. These guys sure seem lucky to be working in such beautiful locations. They seem to really enjoy their work.
Babbit Peak Outlook
View to the east, you can see Stead, home to the Reno Air races
Brother talking shop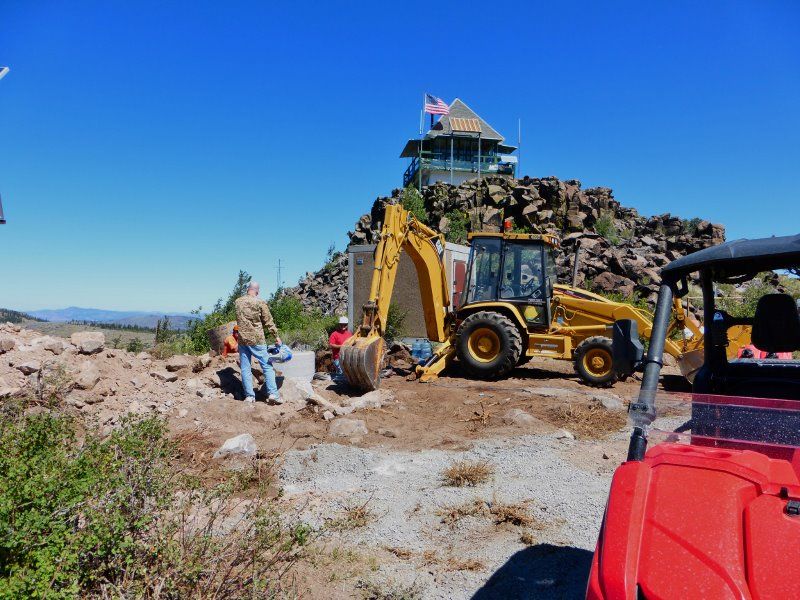 On the ride to Verdi Peak, we came across a bear. First time my br
other ever seen a bear in the wild (sorry no photos, was not quick enough). The road last week was blocked by a fallen tree. Luckily, somebody came along with a chainsaw and removed the obstacle. Must to been a **** of a big chainsaw. My estimate of the fallen log was 3 feet in diameter.
This week, tree removed
Last week
Reaching the summit of Verdi peak, we enjoyed the 360 degrees views. To the west, you can see to the Sierra Crest, Northstar Ski Resort, Truckee, and Donner Pass. To the east, you can see Reno. And just below, you can see my town of Verdi.
Pretty typical conditions here, my tires are really taking a beating. Don't think I'll get more than 1200 miles out of them. Stampede Res. in the background. Note how low the level is.
Toward the top of Verdi Peak, Down below is Highway 80 and Truckee River Valley. The Mountain to the left is Hunter Peak. Next week planning to taking that from the top down to the river, and up into Truckee.
Verdi Peak out look. No longer in service. Great views
View to the west,
View to the East, my town Verdi Nevada. Pevine mountain behind. Lost of off-road trails
Vedi Peak from the north
Coming home we noticed a plum
of smoke towards Boca Reservoir. Luckily, the fire was against next to a water source for the helicopters. When I got home, I watched the news about the fire. Cal fire is really serious this year about fires. They immediately had Jet tankers making drops within an hour of the fire starting.
That about it for this weekend, Stay tuned for next week..............